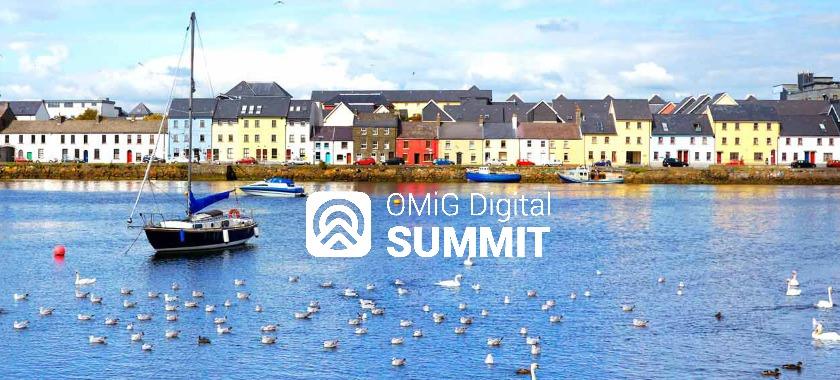 By: David Glynn, Co- Creator, #OMiGSummit
Galway is on the Western seaboard, and is well known for its festivals, parties and as an ideal base to explore the beauty of the Wild Atlantic Way and Connemara.
I cannot explain how proud I am of our city – without a doubt the best in the world.
Sure it can rain often and the weather can be harsh, but to me the vibrancy and energy displayed by its people both in work and leisure really outweigh all the negatives.
Where else would you rather be on a sunny evening in July than on Quay Street enjoying the many street performers, out in Salthill with a 99 or even enjoying a swim in the sea?
Galway people are not content to rest on their laurels and there are many working hard to improve Galway as a place to work and live – securing jobs, investment and tourism.
Galway is now seen as a Tech Hub, a place to start up new ventures, and as a gourmet capital (take a bow Mick Fitzgerald, John Breslin, JP McMahon, Tracy Keogh, Meet in Galway, Failte Ireland and many more).
We need to be able to use Galway as a destination and as a place to do business.
In the Marketing industry, expertise is needed in Digital, Analytics, Adwords, Social and Content which is seen as being key for 2016.
Many of our peers say expensive websites will be obsolete as today's savvy consumers trust the recommendations of their friends more than the marketing material published by the companies.
Dublin has always hosted great events with industry professionals speaking about these topics, and while these events are great, they can be expensive and time consuming with travel and time away from the workplace.
It has always been the aim of Online Marketing in Galway to host events of a similar nature in Galway and at a reasonable cost, and to date, Online Marketing in Galway (OMiG) founded by Maricka Burke Keogh in 2011 have now hosted over 50 events with big names such as Marketo, Joe.ie, Paddy Power, Ryanair and the Irish Times.
The Digital summit is a larger event and while the format is not unique to Galway we feel it is great to have an event with this calibre of speaker in our city.
Aislinn Connolly from Google & Lillian Gallagher from In the Company of Huskies (both Galway natives) will discuss how using Analytics can lead to making better informed marketing decisions. Sinead Conway also a native of Galway will be showing how Twitter can be effective in today's Marketing landscape.
Other big brands discuss their success and strategy such as Aer Lingus, AIB and The Guardian Newspaper.
We are delighted that the speakers will be available throughout the event for questions and answers.
Ticket price includes refreshments and please note the event starts at 4pm in the Radisson Blu Hotel & Spa, Galway
For further details visit:
http://www.galwaymarketing.ie/summit/